These high quality handcrafted Australian Stock whips, Bull whips and Snake whips
are a reflection of over 40 years full time, professional experience
in the craft of Bull whip and Stock whip making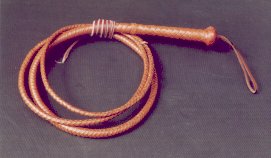 David Bould served a full time apprenticeship in Sydney Australia
learning the craft of bull whip and stock whip making
under master Australian whip maker R.J.B.Hudson from 1970 - 1975.
In 1975 he established Bould Whips in ST Marys at the foot of the Blue Mountains in
NSW Australia and has been trading continuously ever since.
If you have any info on Roy Hudson can you email me
I have not seen or heard any thing about Roy for a long time ?
All Bould Whips are made to order and shipped in days
Pay with your credit card through PayPal.
Email
HERE
for more info and prices

Phone 02 9623 9034 or Mobile 0408 752251 Monday to Friday
OR
SNAIL MAIL =

D BOULD
PO BOX 3028,
ST MARYS SOUTH,
NSW. AUSTRALIA
2760

Since Aug 98